Jett Power-Flo 7ft Air Hockey Table


"Play like the Pro's"
He Shoots, he scores! Our ultimate 7' hockey game features a super fast air glide playing surface with ''goal in the rail'' design for durability and keeps the play surface within easy reach for the kids. This air hockey table is built to last with a durable finish on the rails and super solid commercial style cabinet. The playing surface is a deep well design to reduce puck ''fly-out'' and features full official rink markings. The most important feature is the solid extruded aluminum rink walls. These will assure incredible puck rebound for many years to come! It has a side mounted electronic scoring with fun sound effects, game timer and lights will keep everyone in the game. The score unit even has speakers and a MP3 player cradle and jack so you can listen to tunes while you play! Goals are registered by infrared sensors in the nets for the best accuracy we've seen in an air hockey score system. Table comes complete with two 3'' 21gram pucks and 2 pushers. The table incorporates an extremely solid four post leg system with 6'' metal leg levelers with rubber floor guards.
Jett Rod Hockey Table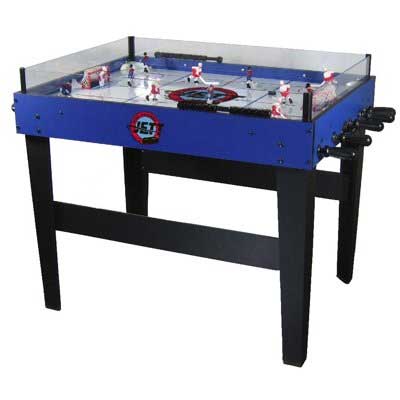 Face-off for some exciting hockey table action with the Ice Raider Rod Hockey table from Jett Games. This solidly constructed table features carbon fibre rods with large handles for great stick handling. The red players vs blue players are 3 dimensional with painted details. Official rink markings and transparent rink walls make this feel like a real rink. Jett takes Rod Hockey to a new level with full size 31" x 42" playing surface. A great family table at an incredibly low price! Comes with 2 pucks and 4 extra players. Dimensions: Approx. 43.5'' L x 32.5'' W x 34'' H Weight: 85lbs.
Jett Power Stick Bubble Hockey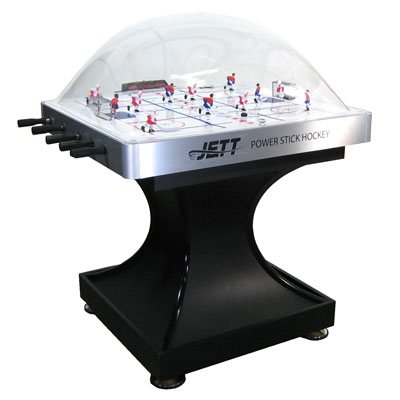 COMING SOON!!
Face off at home with this commercial style dome hockey from Jett Games. Strong steel rods, coupled with super-fast gear-box action and clutch system, make this game the real deal. Electronic scoring unit brings the crowd to its feet with every goal for none stop family action. Just like the coin operated Bubble Top Hockey we use in arcades and bars this table features a clutch system that prevents damage to hockey players or gearboxes when opposing players are battling for the puck. The gear system allows just a flick of the wrist to turn the players 360 degrees for super fast action. The 5mm thick acrylic dome is hinged with handle for easy access to the play surface. The base comes pre-assembled and features leg levelers for easy setup on any floor surface. Precision-ground 5/8" tubular rods with 2mm wall thickness rotate in nylon bushing for exceptional performance. The Super-Stick features side mounted electronic scoring which is out of your line of site that tracks goals with infrared sensors in the nets for accuracy. Score unit times games, tracks your score and has great sound effects that add to the excitement of the game. Includes 2 pucks and assembly manual. Game Dimensions: 511/2''H x 41''L x 36''W. Weight 166lbs
Jett Compact 6ft Pool Table
Don't have room for our full size pool tables? Want a great table for the kids? Our Junior Compact 6ft pool table is the answer! This 3' x 6' (Playing Surface 63'' x 31 1/2'') table solidly constructed with black finish with silver highlights. This unit comes complete with all the accessories you will need to play including a set of pool balls, cues, a triangle and chalk. It has chrome coated corners, leg levellers, green nylon cloth and durable rubber bucket pockets. This is a fantastic game table to add to your rec room! Dimensions: 72'' L x 40 1/2'' W x 31 1/2'' H Weight: 160lbs. Carton Dimensions: 75'' L x 43'' W x 8 1/4'' H